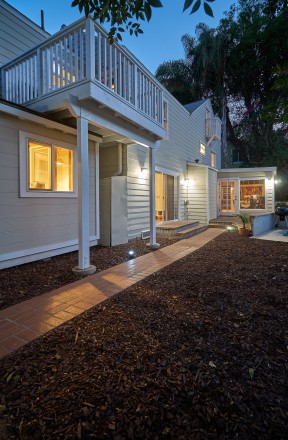 PRIVATE LAUREL CANYON COMPOUND
3 Beds
•

4 Baths

•

2,419 SF

•

5,105 SF Lot

•

Sleeping loft + separate office

•

Classic mother-in-law unit

•

$1,695,000

8501 Brier Dr, Los Angeles, CA 90046

This 2,419 square-foot canyon view compound features a main house with two bedroom suites, a sleeping loft (possible third bedroom space), and an office (could also be a sleeping room).
Enter through a gate which surrounds the flat front yard area. Brick paths lead to the front door of this Traditional—yet distinctly Laurel Canyon-style—residence. A new roof is above. Fresh exterior paint, as well. Roses and flowering plants greet visitors.
Once inside, hardwood floors gleam throughout the main house. Walls of doors/windows make outdoor entertaining areas (decks, patios, flat land) part of the indoor/outdoor Laurel Canyon experience offered by this home.
The home's formal living room is anchored by a stone-clad fireplace with custom built-in cabinetry. Adjacent to the living area is a fully-equipped custom-built wet bar.
The home's kitchen and dining areas are 100% open to each other, reflecting the way home owners live today. A breakfast bar defines the two spaces. The dining room provides access to the great outdoors. Here, under mature trees, views of the canyon pour in. An outdoor patio is the perfect spot for al fresco dining.
The main house also features "dueling" master bedrooms (2 en suite), two additional spaces—and office and a loft with closet/storage space.
The home also has a third full bathroom for use as a powder or as a guest bathroom.
Below the compound's two-car garage is a separate studio in-law set-up with its own private entrance, kitchenette, and bathroom.
Six-car parking includes two in garage, two under a carport, and two more off-street. A rarity in the Canyon!
WONDERLAND SCHOOL DISTRICT!
Wonderland School District
Compound site including main house with 2BR/3BA + LOFT + OFFICE
Living room with fireplace
Open floor plan in dining and kitchen areas
Breakfast bar
Flexible living spaces Studio (in-law suite) with kitchenette, bathroom, and separate entrance
Pre-wired AV systems
New roof
New exterior paint
2-car garage 6-car off-street parking
Mature landscaping Flat pads on the 5,187 sq.ft. lot
Canyon views
Laurel Canyon is a neighborhood and canyon located in the Hollywood Hills region of the Santa Monica Mountains, in the Hollywood Hills West district of Los Angeles, California. Laurel Canyon is focused on its central thoroughfare, Laurel Canyon Boulevard. However, unlike other nearby canyon neighborhoods, Laurel Canyon has houses lining one side of the main street most of the way up to Mulholland Drive. There are many side roads that branch off the main canyon, but most are not through streets, reinforcing the self-contained nature of the neighborhood. Some of the main side streets are Mount Olympus, Kirkwood, Wonderland Avenue, Willow Glen, and Lookout Mountain Avenue. The zip code for a portion of the neighborhood is 90046. Laurel Canyon Boulevard is an important North-South route between: West Hollywood, Hollywood, and Central Los Angeles; and Studio City and the eastern San Fernando Valley. The canyon's division between the two regions is defined by Mulholland Drive.
The Laurel Canyon area was inhabited by the Tongva people, a regional tribe of the indigenous peoples of California, for thousands of years. A spring-fed stream flowed year-round providing water. The reliable water attracted colonial Spanish ranchers who started sheep grazing on the hillsides in the late 18th and early 19th centuries. After the Mexican-American War and U.S. statehood, the area was settled by Americans interested in water rights. Around the turn of the 20th century, the area was subdivided and marketed as mountain vacation properties. Between 1912 and 1918, a trackless electric trolley bus from the Laurel Canyon Pacific Electric stop ran up the canyon from Sunset Boulevard to the base of Lookout Mountain Road, where a road house served visitors. Travel to the newly subdivided lots and cabins further up the canyon was at first made on foot or by mule. As the roads were improved access was possible by auto. Among the famous places in Laurel Canyon are the log cabin house once owned by silent film star Tom Mix, that later became home to the Zappa clan,[2] and another (directly across the street) that magician Harry Houdini may have inhabited.
Laurel Canyon found itself a nexus of counterculture activity and attitudes in the 1960s, becoming famous as home to many of L.A.'s rock musicians, such as Frank Zappa; Jim Morrison of The Doors; The Byrds; Buffalo Springfield; the band Love; and Micky Dolenz & Peter Tork of The Monkees. Tork's home was considered one of Laurel Canyon's biggest party houses with all night, drug-fueled, sleep-overs well attended by the hippest musicians and movie stars of the era. John Phillips of the Mamas & the Papas took inspiration from their home in Laurel Canyon in the song "Twelve Thirty" a.k.a. "Twelve Thirty (Young Girls Are Coming to the Canyon)", released in 1967. In 1968, John Mayall recorded and released Blues from Laurel Canyon based on his experiences on a vacation earlier that year. Famed photographer Henry Diltz was also a resident and used the scenic Canyon backdrop for many of his historic photos of rock musicians casually socializing. Several of his photos became iconic representations of the 1960's & 1970's West Coast music scene and many others became famous album sleeve covers (such as CSN's debut album: Crosby, Stills & Nash - photographed in nearby West Hollywood). Joni Mitchell, living in the home in the Canyon that was immortalized in the song, "Our House" (1970), written by her then-lover Graham Nash, would use the area and its denizens as inspiration for her third album, Ladies of the Canyon (1970). Crosby, Stills, and Nash first met each other in her living room. Musician J. Tillman has said that his output under the moniker Father John Misty was partly inspired by a relocation to and personal reinvention in Laurel Canyon. The song "I Went to the Store One Day," from his 2015 album I Love You, Honeybear, recounts the story of how Tillman met his wife, Emma, in the parking lot of the Laurel Canyon Country Store. Current California Governor, Jerry Brown, was also a longtime resident; at one point co-habiting with then-girlfriend, Linda Ronstadt.

Jeff Yarbrough
Realtor & Principal
CalBRE#01341959
323.854.4300
Jeff@LALuxeGroup.com
JeffYarbrough.com | My Bio


439 N. Canon Dr., Penthouse
Beverly Hills CA 90210
kw.com
Request A Showing or More Info: